The next day we head off to Hydaburg. The weather continued to be amazing.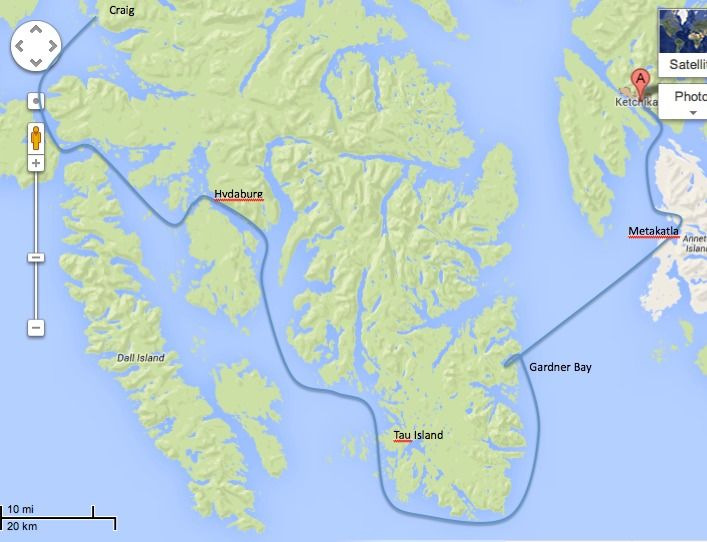 We started to see more signs of civilization as we got closer to Hydaburg. This is a Coast Guard helicopter, they must have been practicing as they buzzed a couple of fishing boats and flew off.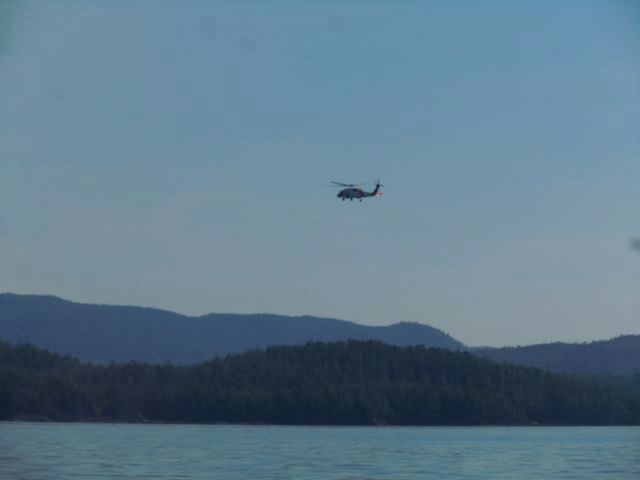 Viviann at the helm, one of the few pictures I've taken. Viviann should get the credit for the bulk of the pictures in these posts.
As we approach the town there is a long spit running off from the beach that I nearly went aground on. I am sure I was the entertainment that day. After tying up at the decrepit dock we walked the town. They are building a fancy new set of docks that are supposed to be finished this summer.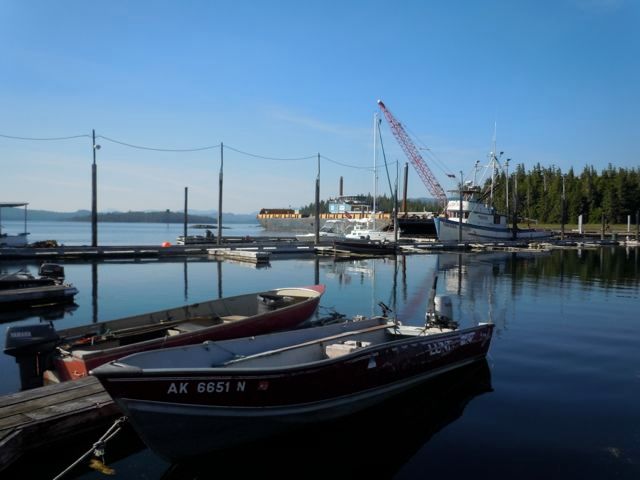 Hydaburg is another small native village. And another hot, not Alaskan like day, it was in the eighties as it had been for the last few days. There were hand letter signs stapled to telephone poles every few hundred feet that said, "popsickls for sale at Cassie's nanna's house." Obviously if you had to ask where Cassie's nanna's house was, you weren't from around there.
We went to the little store and the first thing the storekeeper asked was were we from the little sailboat? Like I said we were the entertainment. We wanted to buy popsicles but we were told that the barge only comes once a week and they were sold out. The fellow at the store told us where Cassie's nanna lived but he thought they might be sold out too. Luckily he remembered that he had a couple ice cream sandwiches left so we lucked out. At the fish dock the local kids were enjoying the hot weather.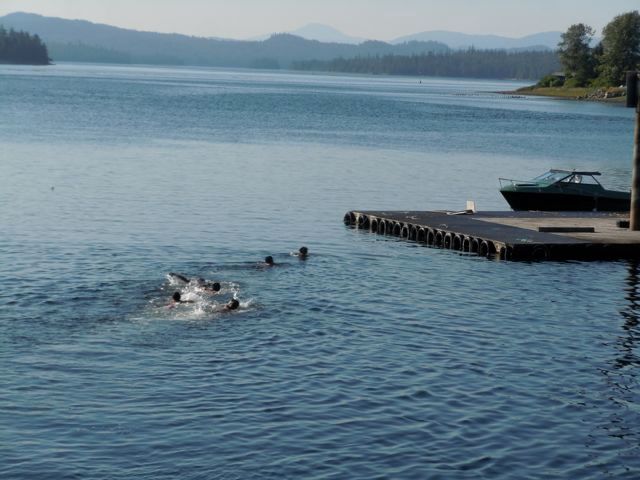 Hydaburg has a large totem park where they have been replacing the reproductions of the originals.
This fellow was rebuilding the base for a sacred sea otter statue. Like Metakatla, Hydaburg has an unfortunate past. Apparently early in the 1900's three local native villages were convinced to abandon their well established and functioning villages and consolidate at an entirely new site on unbroken wilderness at the present site of Hydaburg. They were promised schools, a hospital and so on. They are still waiting for the hospital. We were told this story by the son of the first child born at the new site, in a tent in the middle of winter. When they were moving the village there were two of these ancient sea otter statues and one of them was dropped off the ship into the harbor. It is stlll there.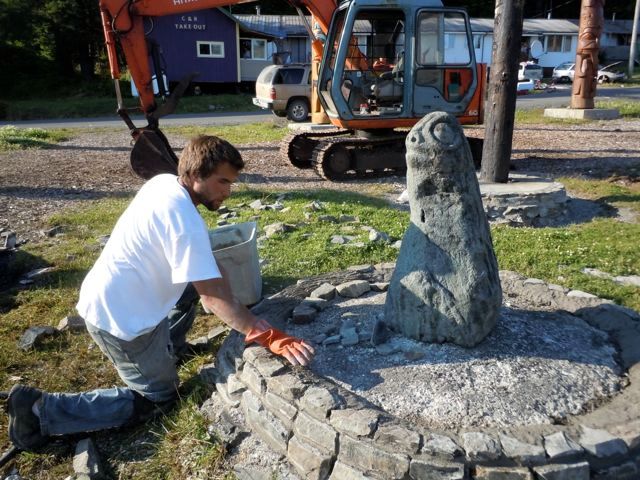 Another post office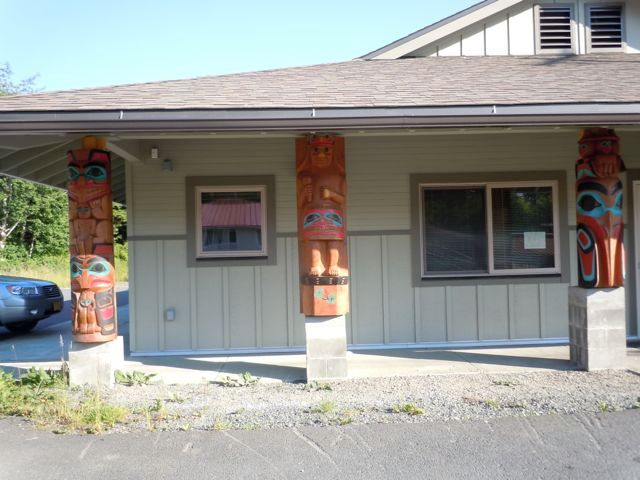 Besides science I also teach woodshop. This spring a new student arrived with his father. Talking to them I learned they were from Hydaburg. I jokingly said that we were going to SE Alaska and we would look them up.
Well here we were in Hydaburg after all and Viviann convinced me that I really should try to drop in. I thought it a little unusual but she asked where my student lived and of course everyone knew. So we knocked on the door the next morning and reintroduced ourselves. The father was surprised to see us and invited us in for coffee. He told us the son was still asleep and we had a nice chat learning all about the goings on of Hydaburg.
After a time the father insisted on waking the son up. I wish I had had a camera to get a shot of the kid's face when he walked into the living room and sees his teacher sitting there. It was complete shock followed by a big grin. We had a nice visit and left to catch the tide with some local knowledge of how to avoid the sandbar.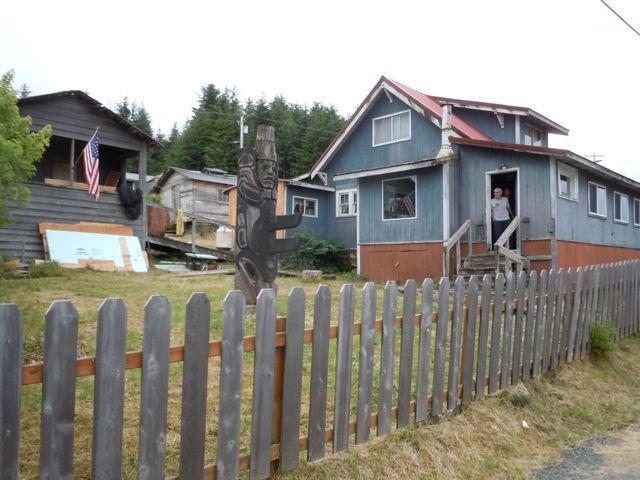 The next day we made it to Craig. We were met at the dock by a fellow from the port who helped us tie up. We got showers and went out for pizza with Viviann's friend and her husband. The next day they loaned us their truck to see the sights and we drove to Klawock where we poked around where they were replacing all the totems from their park. The old ones were all laid out in a field, it was a pretty impressive sight.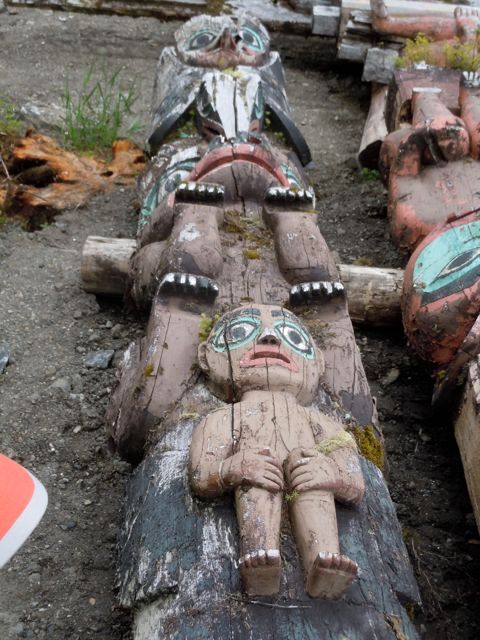 We looked into the carving shed and the carver was happy to see us and invited us in. He is Ron Fairbanks and he teaches carving among other things to middle school students. Besides the whale carving, take a look at the cedar plank behind him. It is about 30 inches wide clear vertical grain and about fifteen feet long. You don't run into wood like that very often.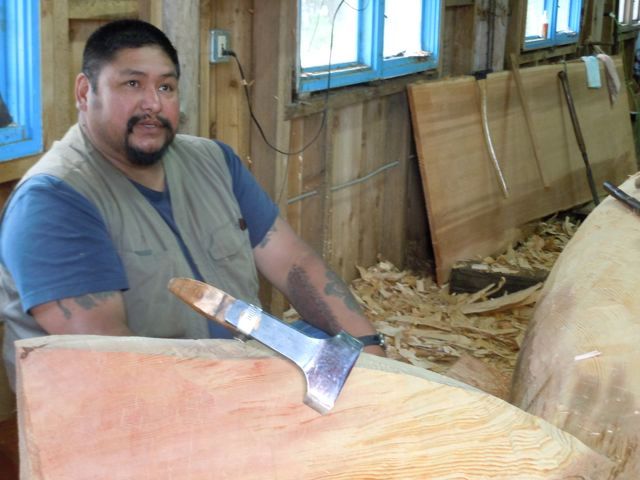 He is working on the last totem for the park.
The next day we are about to take off and our batteries are too low to turn over the outboard. I had been babying them hoping that they would hold a charge. Obviously not, so I borrowed a dock cart and huffed it up to the local NAPA. The price wasn't all that much more than at home so I replaced them both. An hour and a half later we were off.