I am doing this travelog on the installment plan. I had great hopes of writing blogs over the summer while we were sailing. But I didn't. I'll try to blame it on the electronics, we had trouble keeping the computer charged, but really I needed to recharge myself even more. And downloading pictures, organizing them and writing frankly didn't stir me. So now with the rains of fall coming and sitting in my Lazyboy I figure it is about time. My wife Viviann and I took our third trip to Alaska on Red the 27 foot trailer sailer I designed and built. We ended up spending about five weeks and going about 900 miles on the water. We live in Quilcene WA and trailer the boat to Prince Rupert BC. Ketchikan Alaska is ninety miles north of there and is where most folks go through customs. Viviann deserves credit for almost all the pictures.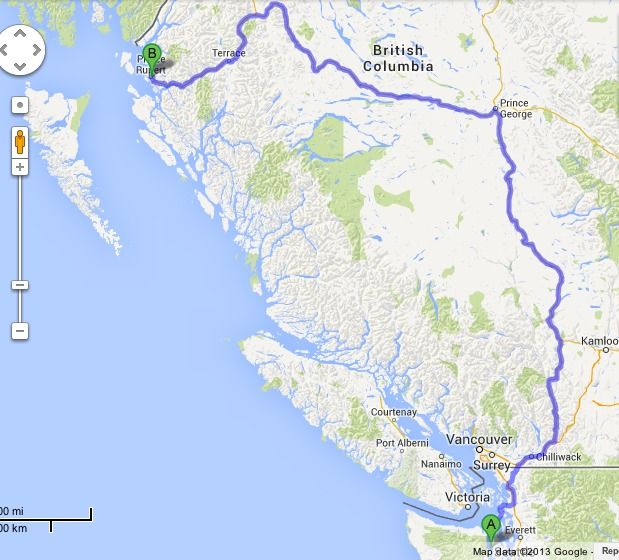 Getting out of the driveway onto the road is a major accomplishment.
Here we are on the Edmonds-Kingston ferry. It's the 3rd of July and I snuck in under the fifty foot mark. Actually I had measured and I was about 6" over. Sometime you need to stick it to the man.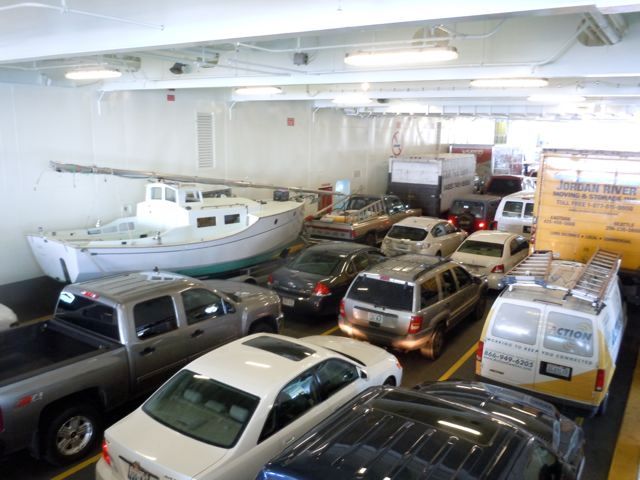 After taking an hour and a half to go about 25 miles, it is the day before the 4th of July after all, it was pretty smooth driving up to the Canadian border at Sumas. We did make a quick stop in Bellingham at West Marine to buy a replacement solar vent. Unfortunately I couldn't figure out how to install it until I brought it back after the trip, so we weren't as well ventilated as I might have liked. Oh well something had to go wrong.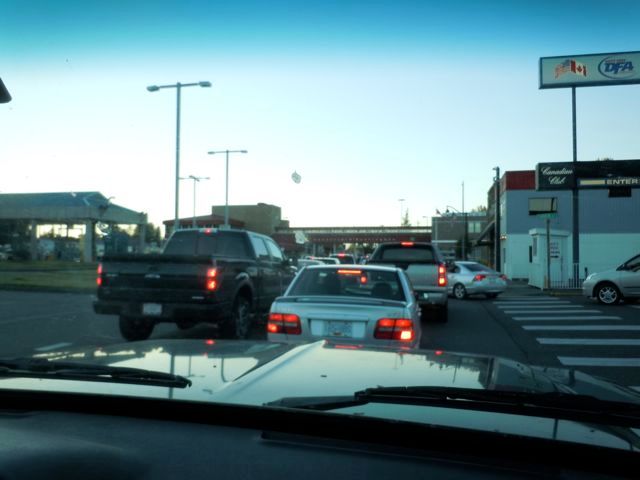 I'm including a few pictures of the highway to encourage anyone to do this trip. It is worth the drive especially since the route is beautiful and the roads are in good shape with shoulders and passing lanes every ten miles or so.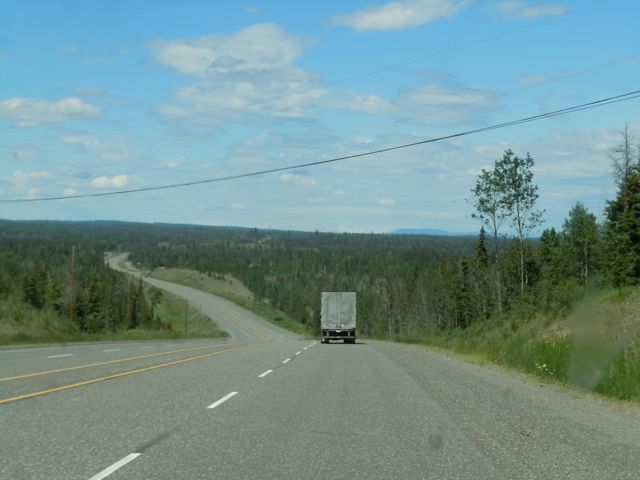 This is the hairiest part of the trip going up the Fraser River. It is pretty steep with pullouts for trucks to check their brakes.
That wacky Canadian sense of humor.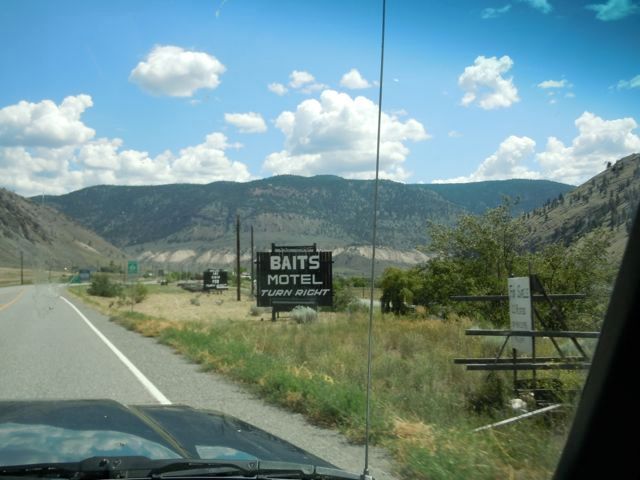 Our second night at Ten Mile Lake Provincial park near Quesnel BC which is about 375 miles north of the border. We are always the center of attention among all the campers and travel trailers.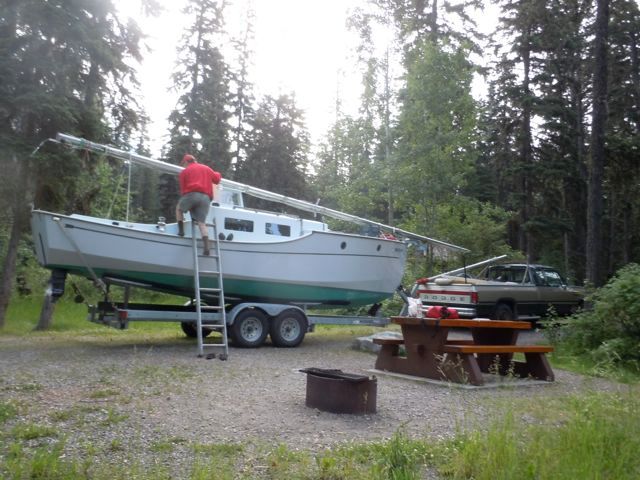 The next day we drive on through Prince George with the cheapest diesel in the Canadian part of the trip at about $4.75 a gallon.
Then onto Houston with the world's larges fly rod.
After about 800 miles we pull into the driveway of the organic farm where our daughter Lilly is spending the summer near Smithers BC.
Nice view from the front yard.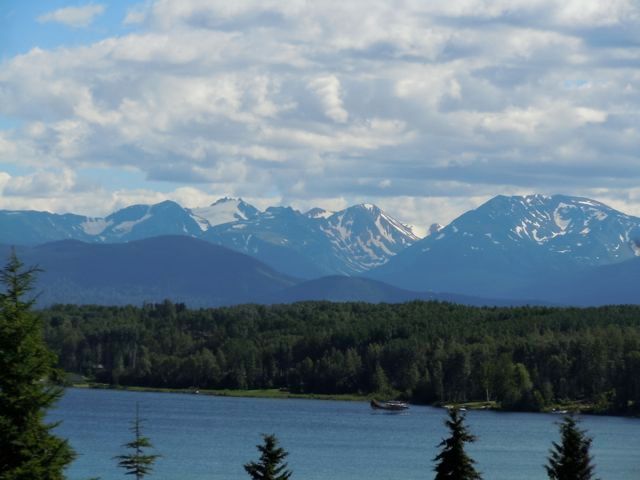 It turned out it was the 30th annual Smithers' Music Festival that weekend so we relaxed and spent the weekend hanging out with our daughter and listening to music and taking in the scene. These were a group of native dancers.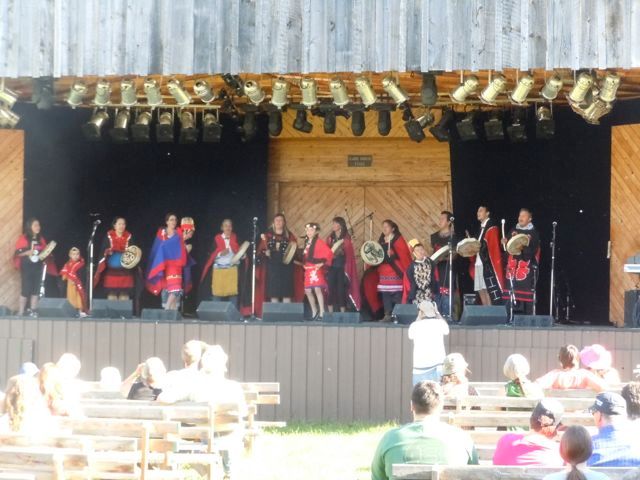 Local color
My daughter's cabin. Small but cute.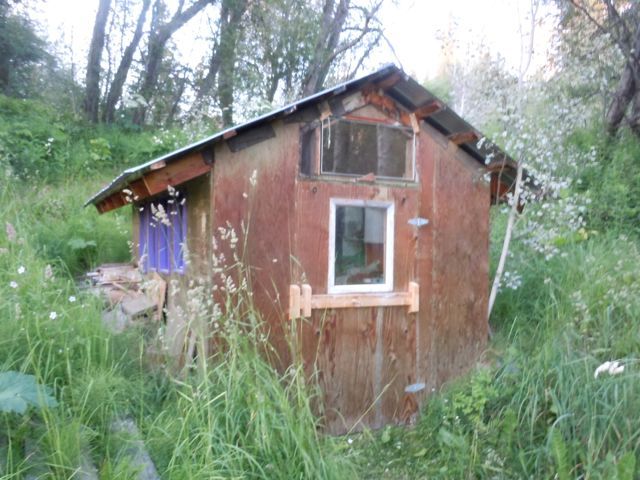 My daughter and I share birthdays. The best present I ever got. Here we are enjoying the birthday girl's favorite birthday cereal. Reese's Pieces or some such thing.
Wildlife near Smithers.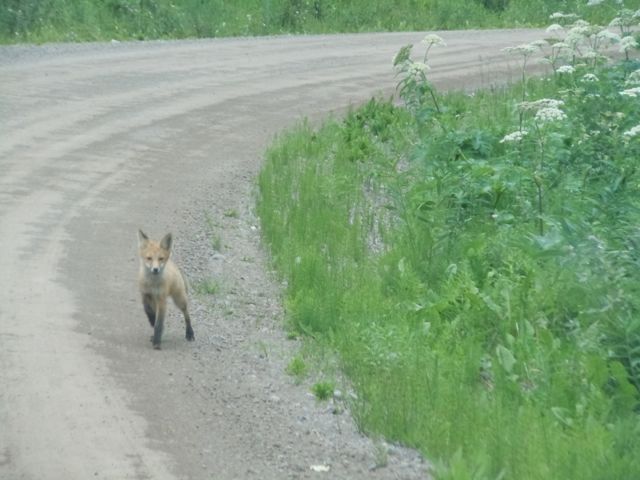 Then Lilly gave us a bicycle tour of beautiful Smithers.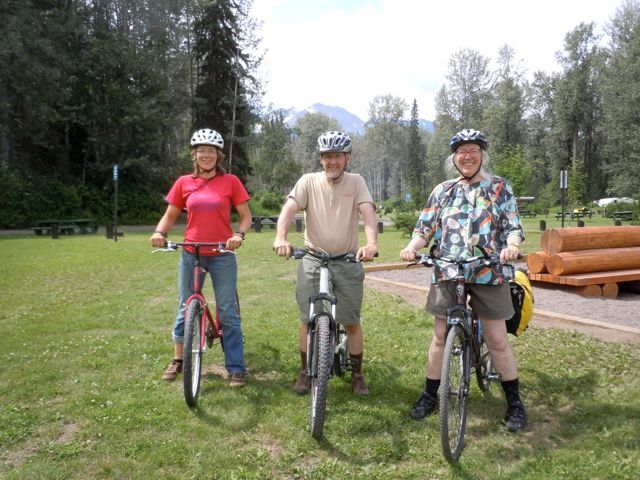 Back on the highway down the Skeena River to Prince Rupert.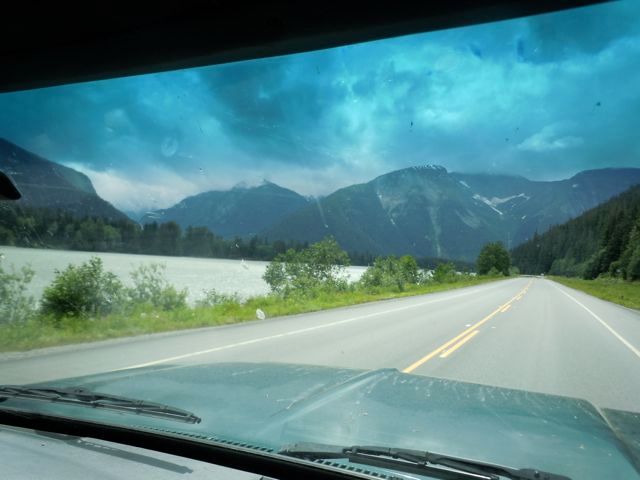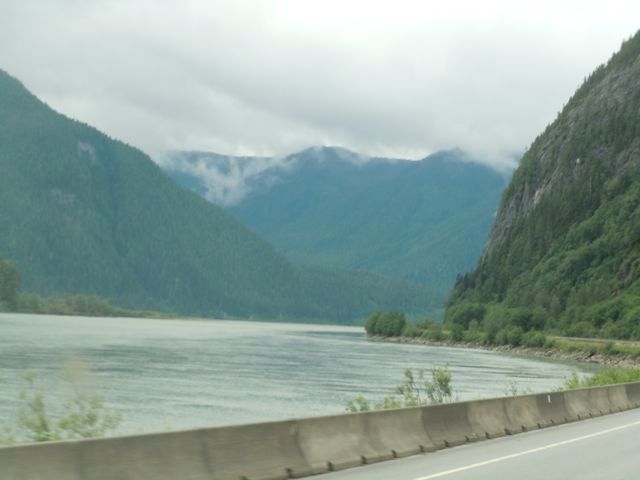 After a week of hot weather the cool damp coast of Prince Rupert was a nice place to rig the boat.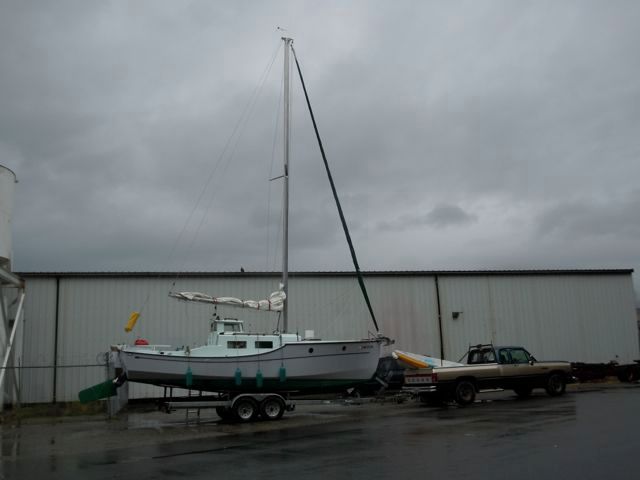 On the other two trips up I had used the Travel-lift to put in and take out. It was always quite a bit more expensive than at home but I didn't know if I could launch and retrieve the boat off the trailer so I just bit the bullet and paid. But this time I called the boatyard and their minimum rate was $300 each way. Yikes. So I talked to a lot of folks at the boat ramp and decided to go for the gusto. It worked out fine, the boat slipped off though I had to tie it to the dock, pull the truck forward and then back further down again to get it off the trailer. Later to put it back on I lowered the rear part of the bunks and it was easy.
The ramp is steep, wide and paved. There was a fair amount of traffic as fishing was good but it worked out fine. Though when I came back down to the boat after parking the truck, a powerboat had tied up behind and they were a little miffed that a sailboat had tied up to the ramp dock. When I explained we had just launched it they were surprised and a little taken aback. Not a lot of sailboats up here period, let alone ones that launch from a trailer.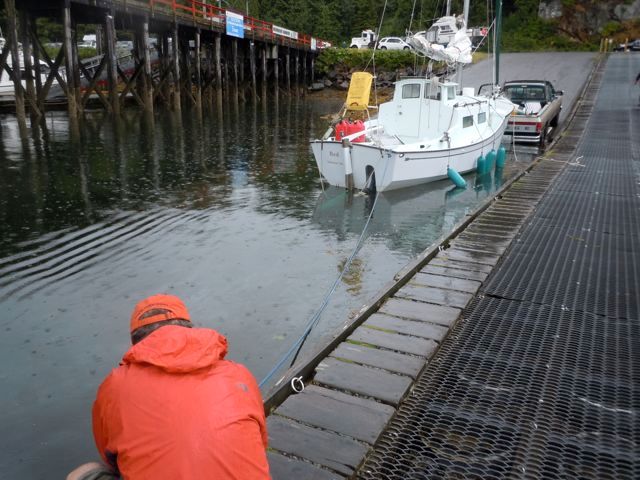 And now were are floating pretty. Like I said it is about ninety miles to Ketchikan the closest place to check into US customs. At five knots it is a two day trip so I called ahead and told them I would be anchoring along the way. They like that. On the first trip I didn't know you were supposed to let them know and they would have been upset, except I had run aground on the way and hurt my arm pretty badly. It was swollen up and looked like it was possibly broken, so while the harbormaster waited to drive me to the emergency room, the customs guys weren't too concerned with a lack of a phone call. I wouldn't recommend hurting yourself as a way to avoid scrutiny however. Just make the call.
Most cruising on the Inside Passage is fairly protected except for crossing Dixon Entrance which is between Prince Rupert and Ketchikan. It is a stretch of water 40 miles wide that is fully open to the Pacific. It can be terrifyingly rough. My brother fished commercially for many years in Alaska and told me crossing Dixon Entrance during a storm was the only time on a boat that he ever thought he was going to die. So we pick our weather carefully. This time we were able to go across the day after we put in the water. On the trip before we waited almost a week in Prince Rupert for the weather to clear. You just never know but I would rather wait that not. This picture was typical of the weather this time.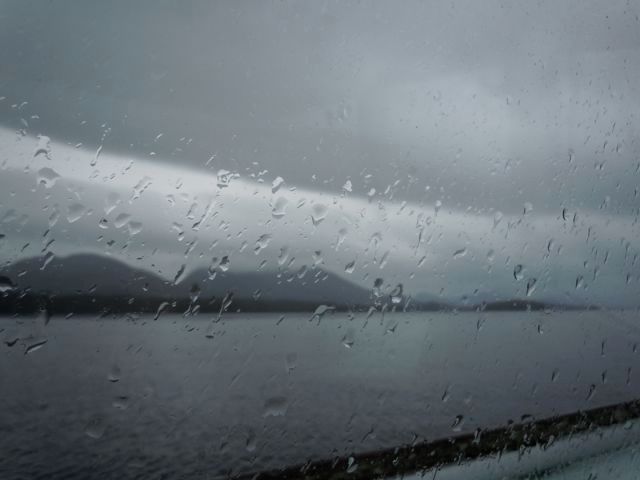 Here is the latest in iPad accessories. I was running out time and had to make my own floatable "waterproof" case. I used INavX on it and it worked great. I did replace the Ziplock every once in a while.
Here are a couple of little cruisers we ran into coming into Ketchikan. I couldn't come any closer or their helicopters would strafe me.
We met up with my nephew Jake on a purse seiner in Thomas Basin which is where we like to moor. It is 58 foot wooden limit seiner. By the end of the season it turns out they had caught over a million pounds of salmon. It was a good year.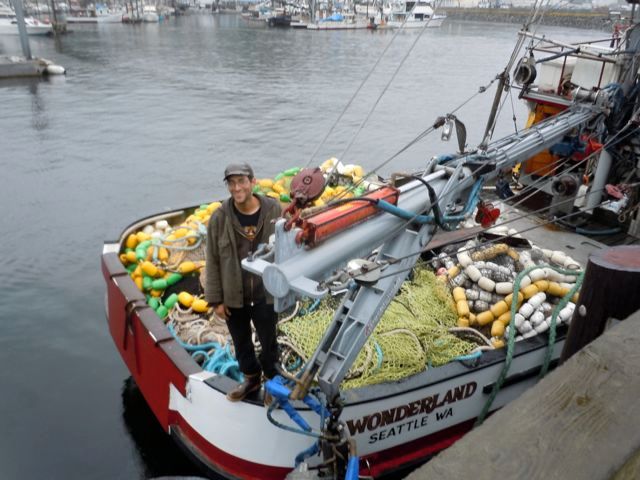 Then one of the cruise ships came in. This is Disney's one and it played the theme from the Magic Kingdom on its horn. How is that for corporate branding? If you look close you can see my nephew's seiner tied up to the dock below it. It looks only slightly bigger than the lifeboats.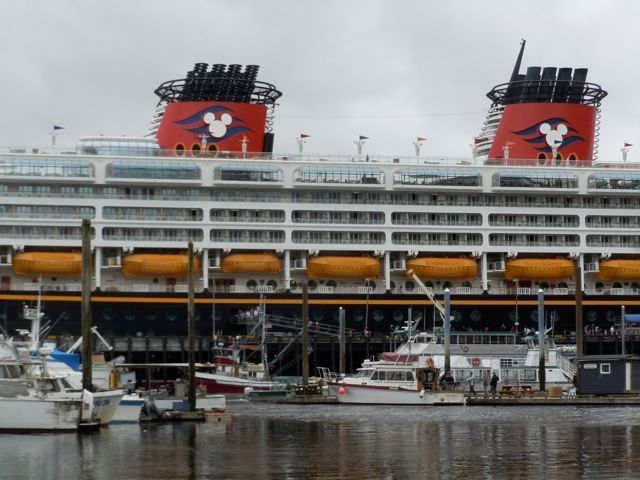 Then a little shopping in Ketchikan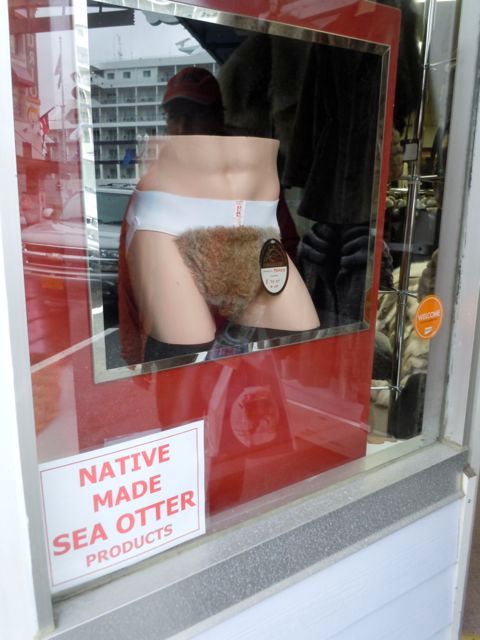 Then some real shopping, showers at the swimming pool, the sun comes out and we are off.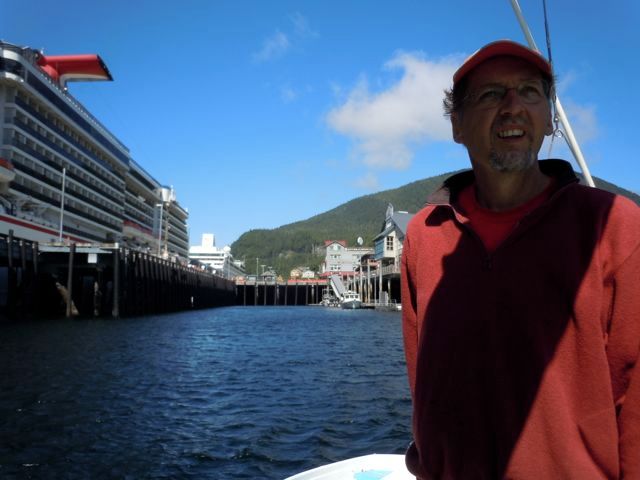 We head south from Ketchikan to circumnavigate Prince of Wales Island.