We headed out from Ketchikan heading north in the now blazing sun. Once we cleared the cruise ships that act like a breakwater we discovered that the wind was coming from the north so we decided to go south. This was with the goal of circumnavigating Prince of Wales (POW) Island. We had originally planned this for the last part of our trip. But hey no schedule, no worries. We were able to run downwind a few miles before the wind died. I tried fishing with no luck and we headed for Metakatla, a native village on Annette Island. This is an overall view of the trip once we were on the water. We went clockwise from Ketchikan.
This is a bit more detailed view of the route around south part of POW Island showing most of our stops along the way.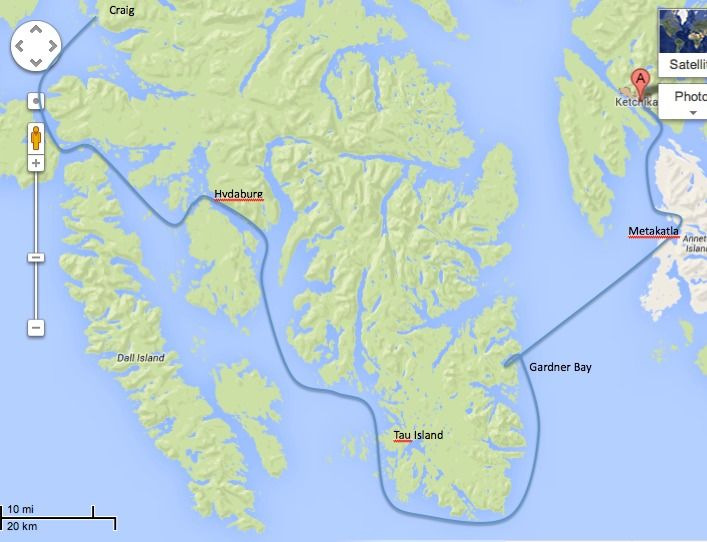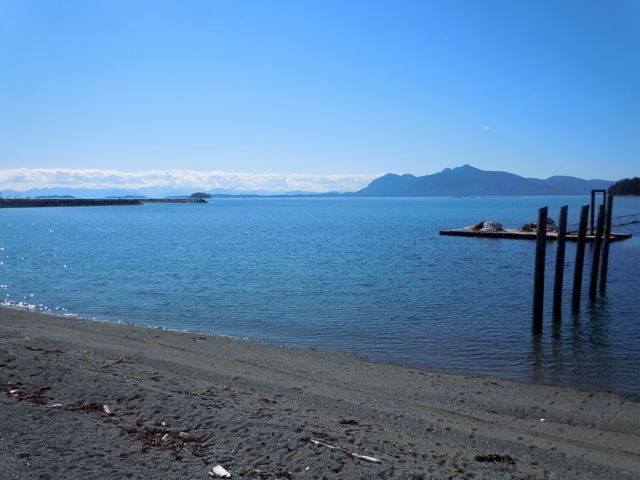 There were lots of folks hanging out on the beach in the sun. We sat in this park and talked to a fellow who told us that he remembered last summer, and on that day everyone went to the beach too. Pretty funny guy. We tried to buy ourselves ice cream bars and they only had whole boxes at the store. So we bought a box of 8, ate two and my wife handed out the extras to the locals who were overwhelmingly pleased. Unfortunately she only had one left when we ran into a group of teenagers who were swimming. Only one of them was lucky but the others were very gracious and polite about it. Nice place
My wife loves to send post cards so a visit to the local post office is always a must see. Metakatla's history is interesting. We were told was that the original residents came from Metakatla BC, near Prince Rupert, to avoid religious persecution. Around the turn of the century the town was created when Father William Duncan petitioned the US government for land. They had apparently looked as far south as Chile. There is another Metakatla in BC east of Vancouver Island that is completely abandoned. We went there about 20 years ago and there were still the remains of long houses and totem poles on the ground. I don't know how that Metakatla fits into this story or if it does.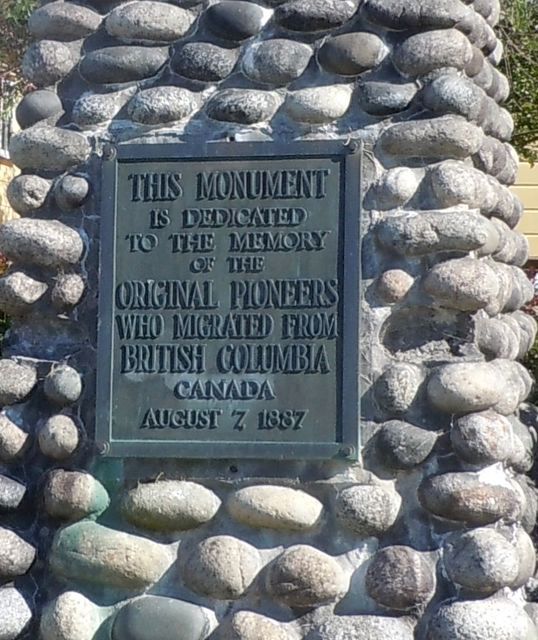 Some of the original homes.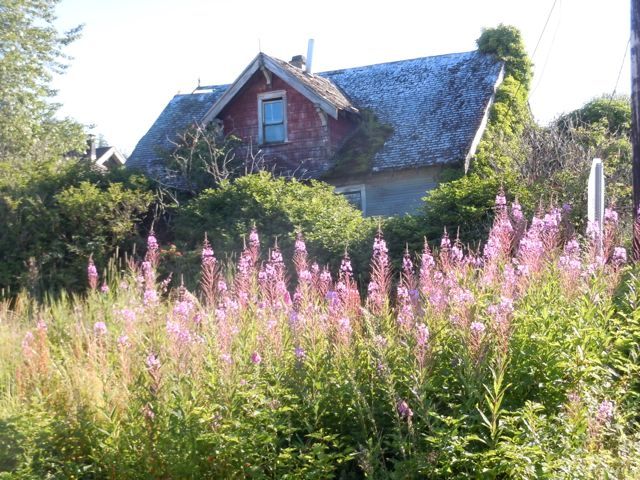 A shot of the boat harbor. Every town in SE has a boat harbor. We tried raising the harbormaster on the VHF and there was no reply so we spent the night for free. No one takes this sort of thing too seriously.
There are lots of beautiful totems throughout SE.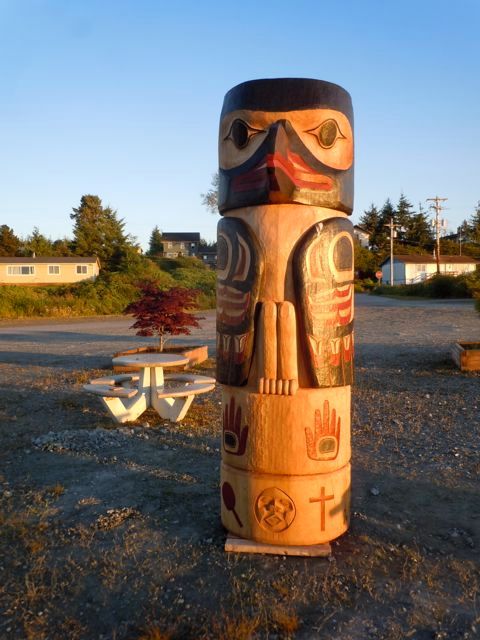 Alaskan sunset. Everyone told us all summer that the weather is never this nice. Though on all three trips we have taken we have had beautiful weather for the most part. I think the locals say that so that they aren't overrun by lower 48'ers. We did get some rain and fog but nothing like some of the summers we heard about.
The next day we take off again in brilliant sunshine and head across Clarence Strait to go around the south end of POW island. Viviann trying her best to make sure she has boat "cred."
We covered about 25 miles and anchored all alone in Gardner Bay.
For the next two and a half days we saw a total of two fishing boats and two sailboats. And when I say "we saw" I mean that literally, as through binoculars. They were several miles away. This is the most isolated place I have been to by boat.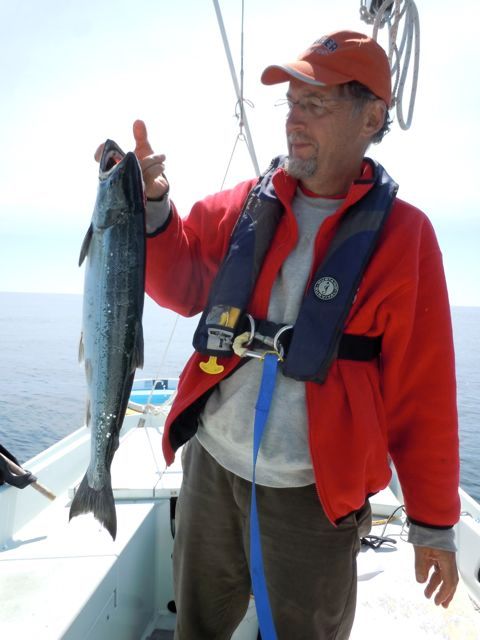 The next day I tried fishing and caught this nice pink. When they are fresh they are delicious, they remind me more of a trout than a salmon. We called this our $150.00 fish as that is the price of an annual fishing license. After that all the fish we caught were free. We then navigated through a tangle of islands that makes most places look like the open ocean. In this chart I pasted a 5 mile X 5 mile section of the San Juans to compare it to a 5 mile X 5 mile section of a whole bunch of un-named islands at the south end of POW. Where the arrow points is where I took the whale video.
After feeling our way through a 50 foot wide pass that was filled with a tangle of kelp we stopped and ate lunch held in place by the kelp. A humpback whale arrived shortly and spent about half an hour flapping around on the other side of the kelp bed. It seemed like it was using the kelp as a scrub brush. This links to where I posted it on Facebook.
Click Here For the Video
We stayed that night at Tau Island in a stunning protected cove. Suffice it to say we were the only ones around. The lower end of POW is a protected wilderness area so there is no development, not even a lonely cabin. We came across this scene, the picture doesn't capture it really. We counted 18 eagles going after herring and lots of gulls. We didn't see any herring get caught. It is hard work to be a predator.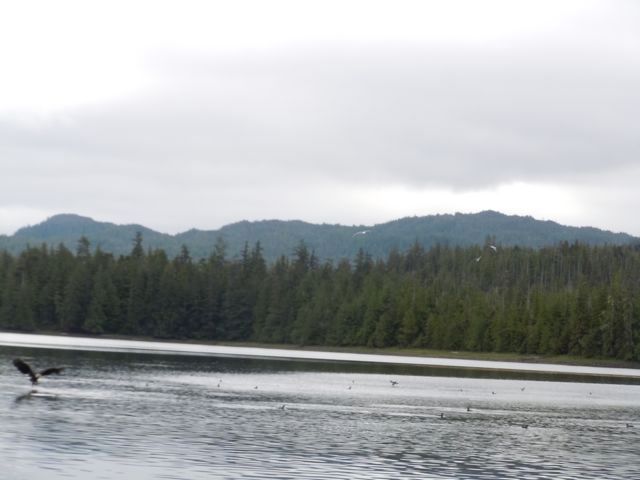 We are now on to Hydaberg.