It's time to move on. We said goodbye to Viviann's friends and after the delay the next morning of getting new batteries for the boat after the motor won't turn over we finally took off from Craig and headed north on our way toward Sitka. We didn't get a very early start this time.
I try really hard to stay far away from anything bigger than me. This is one of the barges that supply all of Southeast.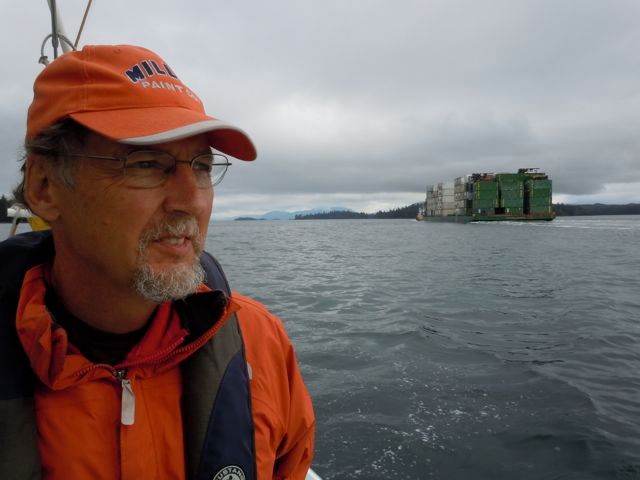 We anchored that night only about fifteen miles from Craig in a little bight called "Bob's Place" which is the site of an old Indian village. The only sign of it was the midden, which is a several foot thick layer of shells which was the "garbage dump" of the village.
It was a very pretty spot and well protected.
Red posing.
The next morning we motor through the rain and mist all day, normal Alaska weather, about thirty miles toward El Capitan, a narrow passageway that runs out towards Chatham Strait. We enter Devilfish Bay and are surprised to see eight boats anchored there. There are six big Beneteaus and two Nordic Tugs apparently all traveling together. It was rainy and wet so we didn't row around and shoot the breeze to find out their story. No one came by our little cork either. This is the most crowded anchorage in SE so far.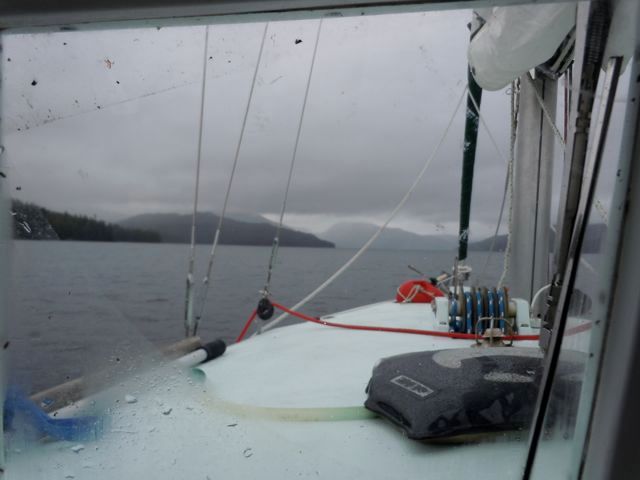 After spending the night we had the second of only three crises on our trip. I tried to pull the anchor and it was stuck solid. I fiddled with it moving the boat fore and aft, backing down, running full speed forward all the while our anchorage neighbors left one by one. I am not sure how they could have helped but I regretted not getting to know them a little bit. I finally put the anchor rode on the genoa winch and cranked until the bow was about a foot lower than normal. What to do?
It was high tide and I figured if I waited until low tide maybe I could dive on it. The water is really cold. But that meant spending another night there. I was resigned to this but thought I would send a messenger line down to the anchor and maybe try hauling back on it. When I sent the line down with a weight attached, I did nothing else and magically the boat bobbed up and the anchor was free. So we motored off in the thinning gloom for El Capitan caves.
There are some really deep caves that have been discovered on Prince of Wales Island. The island is mostly limestone. The Forest Service gives tours but we arrived when no one was around. It is a steep climb on a boardwalk up to it and you can only go in about 100 feet before you come to a steel gate. But that is far enough to make it completely dark when you turn your lights out. It would be fun to take the tour sometime.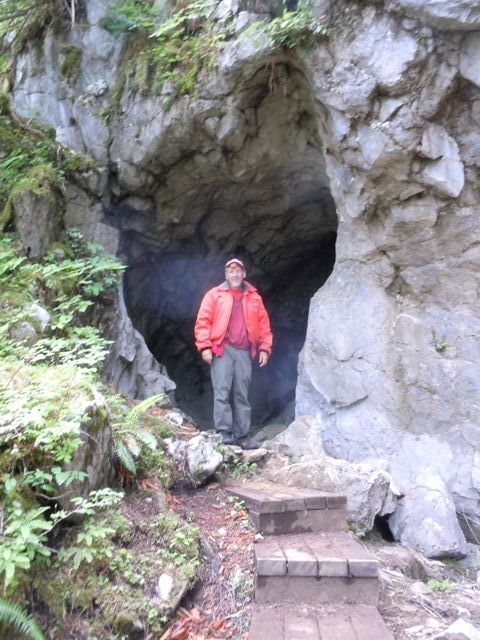 I realized I forgot to mention the first crisis we faced. This happened about a week into the trip. We cruise mostly in Canada and Alaska, both areas where pump out stations are almost non-existent. So I have a Y valve on my head that allows it to go to the holding tank or overboard. Normally I have it set to go overboard.
We are very careful in crowded areas to do our business on shore or wait until we are well out into fast moving water. Apparently at some point last year I had set it to go into the holding tank but I had forgotten about this. So up in the unpopulated north we are just using the head like we live in the land of the free, right.
As time goes on I start to notice that it is getting harder to pump out but I figure it just needs a little lubrication or something. But one morning it is almost impossible to pump, so of course I just pump a little harder. Finally a little light goes on in my reptilian brain. I go forward to check the holding tank level under the bunk in the vee berth. No need to lift the cover that's on it, the tank underneath is bulging to the point that the hatch cover won't even fit anymore. The tank is swelled up like a pimple getting ready to burst, and it is full of you know what.
At this point I am like a sapper trying to defuse a bomb (yes it has an overflow vent but don't ask me why it wasn't working.) I think about opening the deck fitting but I can just see the pressure causing it to shoot out. FInally I realize that if I crack the Y valve part way the pressure will go either into the head or overboard. I did and it did, there was quite a brown plume arising from under the boat.
This relieved the pressure but it obviously didn't empty the tank. So the upshot of it was we carried a full holding tank the rest of the trip.
We continue on through El Capitan and go into "Hole in the Wall."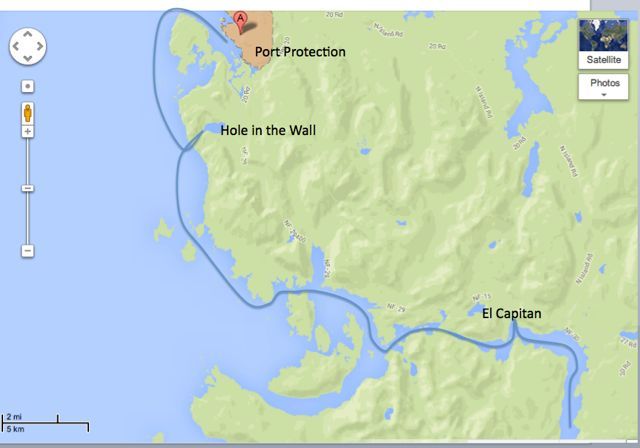 I have been into a number of "holes in the wall," and this one really is a hole. It is only about 30-40 feet wide with a rocky entrance. It is too shallow for us to enter or leave a low tide (we draw 6 feet) But when you get in it is very nice. There was one other boat in there.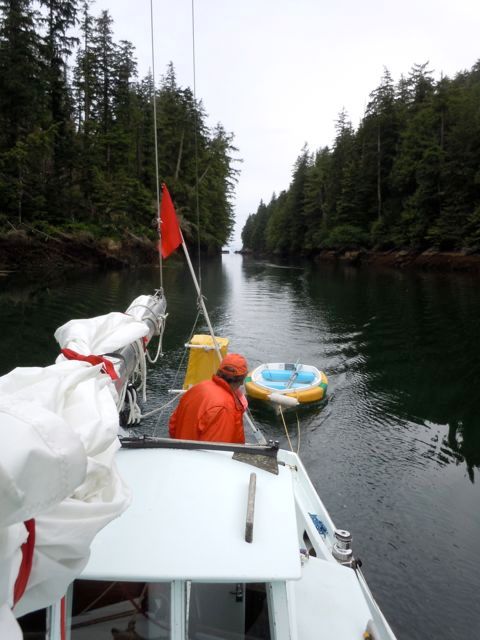 The next day we go into Port Protection to get gas. You have to plan for fuel as there aren't a lot of choices. Port Protection was named by Vancouver and it is neat little harbor with a bunch of houses and a store. There is no road to it so gas was about $5.00 a gallon but who is to argue.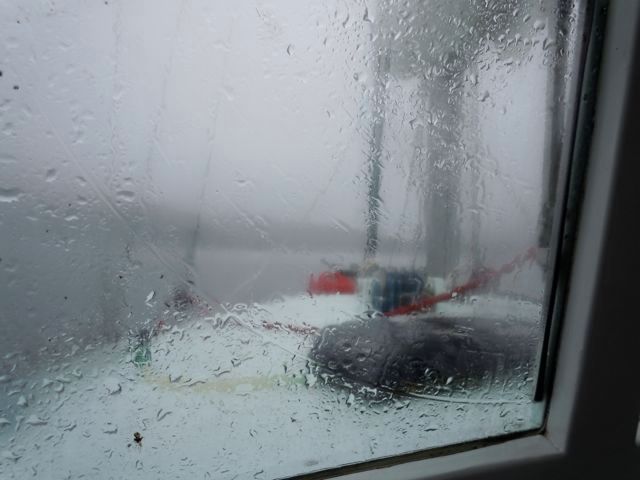 We have gone through Rocky Pass on both other trips so we planned to go clockwise around Kuiu Island to see something different. Crossing Chatham Strait we ran into the heaviest rain of the trip. We anchored in a small cove with a charter boat and the rain poured all night. The next morning I got up early and using the GPS to figure out where I was, I headed out of the bay in heavy fog.
I don't have radar (I'm beginning to think I might get it) so I was pretty nervous. The fog cleared to about 1/4- 1/2 mile viability but I made an executive decision that since we couldn't see much anyway, the extra distance to go around Kuiu Island didn't warrant the effort so I headed north towards Rocky Pass. I listen obsessively on the VHF to channel 16 and all the big boat routinely announce their positions and I figure little boats can stay out of each others way.
But whales are a different story. I was cruising peacefully along and a humpback whale surfaced about only a boat length away heading diagonally towards my bow. My only thought was, "Do whales ever hit boats?" No time for a camera or evasive maneuvers but the whale knew otherwise. It gently sounded so close that boat went through the ripples left by its tail. Pretty impressive sight that only I was lucky enough to see. I called for Viviann but she only caught the rings left behind in the water.
As we motored along towards Rocky Pass the fog lifted and it was another glorious Alaskan Day.