After leaving Craig because the fog was so thick we end up going going through Rocky Pass rather than going all the way around Kuiu Island in order to head north. Rocky Pass is just that, rocky. On our first trip to Alaska we were invited to a party with a group of commercial fishermen and there were lots of serious, if slightly drunken, debates as to whether we should traverse the pass or not. There was no real consensus so we decided to do it as long as WE were sober.
In the 1990's the Coast Guard removed all the navigation markers and buoys to discourage people from going through. About six or seven years ago they replaced them because apparently folks were still doing it, markers or not. In about 12 miles there are some 40 markers and buoys so following them is a really good idea.
The tide floods from both north and south to the middle of the pass called "The Summit," so the strategy is to ride the flood north, timing it to arrive at "The Summit" at slack and then ride the ebb out. We arrived about an hour ahead of schedule and we were really riding the flood. At one point my GPS said we were traveling 12 knots over the ground in a boat with a hull speed of just over five knots. Unfortunately the currents don't follow the channels and several times we were being swept toward rocks pretty much out of control, while it was exciting it also made me really nervous.
After about a half hour of this I dropped the anchor and we lay in the channel for about an hour, the pass isn't very well traveled so we weren't in the way, until things calmed down. Getting up close and personal to currents like that is something I would encourage anyone to do. It makes you both appreciate their power but it also removes some of the mystery and fear.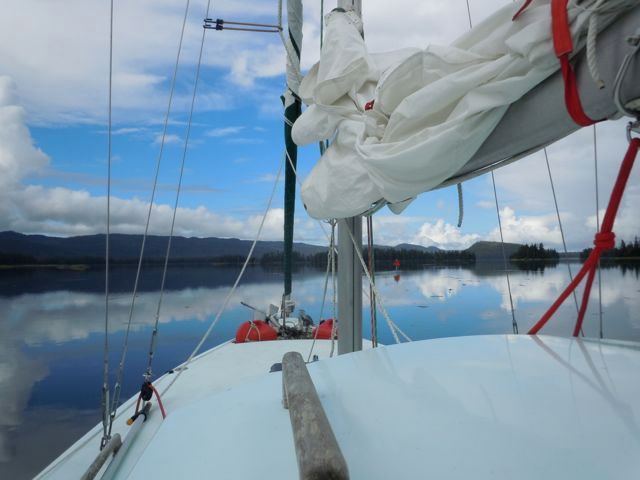 When the current did drop off we cut ourselves loose and made it through, "Devil's Elbow" and "The Summit." without incident. You have to hit them at high water as there is only about seven feet of water at high tide. Other than that the biggest obstacle are the thick kelp beds which kept snagging my keel bulb and clogging the cooling water to the outboard.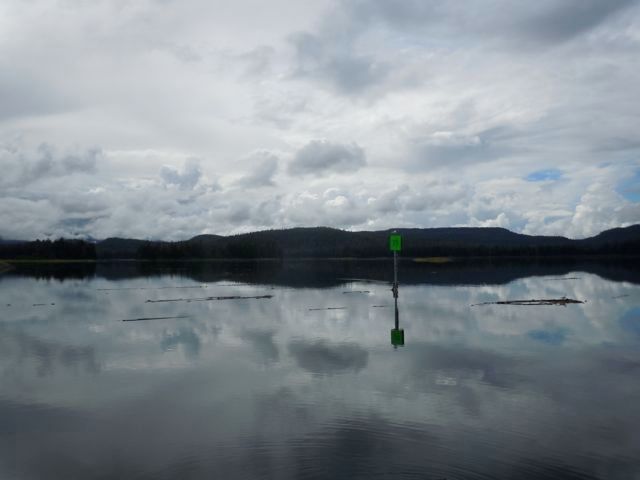 After we got through Rocky Pass we saw five of the Beneteaus we had seen earlier anchored up. I don't know where the rest of them went but we never ran into them again. We anchored at the north end of Rocky Pass. The next day we headed crossed Chatham Strait northwest to Warm Springs on Baranof Island. I think some fishboats are the prettiest boats on the water.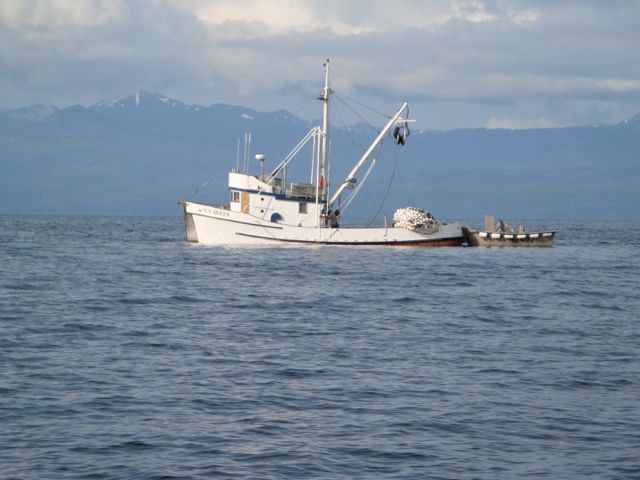 We sailed for a bit but ended up motoring most of the way. There is a large waterfall at the head of the bay.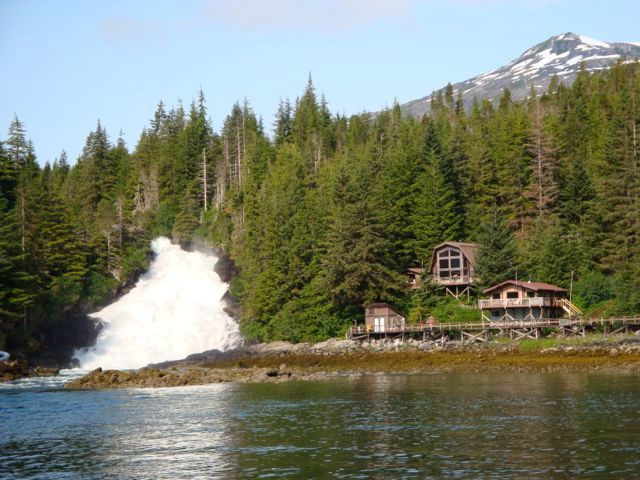 There are also a number of cabins that must have been somebody's dream that unfortunately look nightmarish. They are very well build in that the windows and doors appear to be operable.
This is a popular spot, there was a small National Geographic cruise ship anchored as well as a couple smaller cruise/charter boats. This included the Westward which hails from Port Townsend which is right in our neck of the woods. My wife writes for the local paper and knows everyone it seems, including the skipper and his wife on Westward. Speaking of pretty boats the 86 foot long Westward certainly fits that category, I didn't get a picture of it but this is what it looks like. http://en.wikipedia.org/wiki/File:MV_Westward_01.jpg
Speaking of neck of our wood's boats, a little more in line with the average trailersailer, we tied up in front of a Macgregor 26. Not only is it the only sailboat we have seen out in the wilds on our three trips to Alaska that is smaller than ours, it hails from Sequim Washington which is only about 30 miles from home. If you think what we are doing is impressive, they came all the way by water from Sequim. They left home in May and in July were heading south when we met them, they are expecting to be back by early September.
Like us, they had spent most of the time motoring. Their descriptions of the section from the end of Vancouver Island to Prince Rupert made us think that that will be our next trip.
Warm Springs is named for several hot springs that are located there. There are three neat little bath houses right near the dock, donations accepted. About a quarter mile up a boardwalk there are pools right by the river. Since this picture doesn't have anyone in it is kind of hard to see the baths. There is a frayed piece of 3/8" line tied to a tree that some folks braver, or stupider, than me use to lower themselves into the river to cool down after the pools. The river cascades down the waterfall about thirty feet past where the line is tied. There were no corpses at the bottom so maybe it was okay.
The next day we walked a half mile to the lake that feeds the waterfall. If you walked west about 25 miles you would run in to Sitka. There are several glaciers in the way so we are happy to go the 100 miles or so by water.
Viviann posing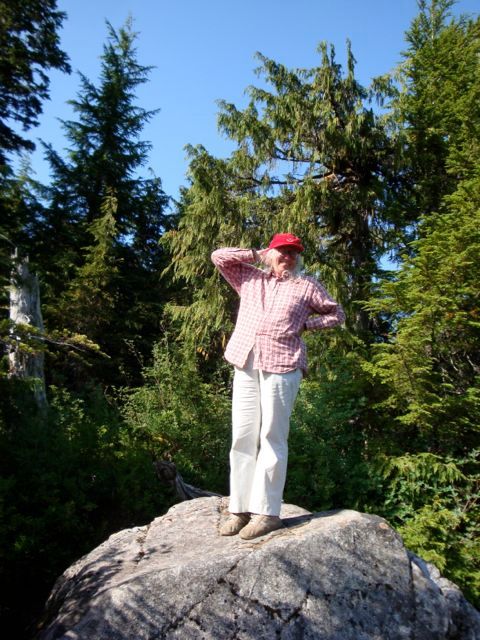 The next day we head off, after calculating how much fuel I have and need in case there is no wind we decide to head to Angoon for gas. Along the way we get some company.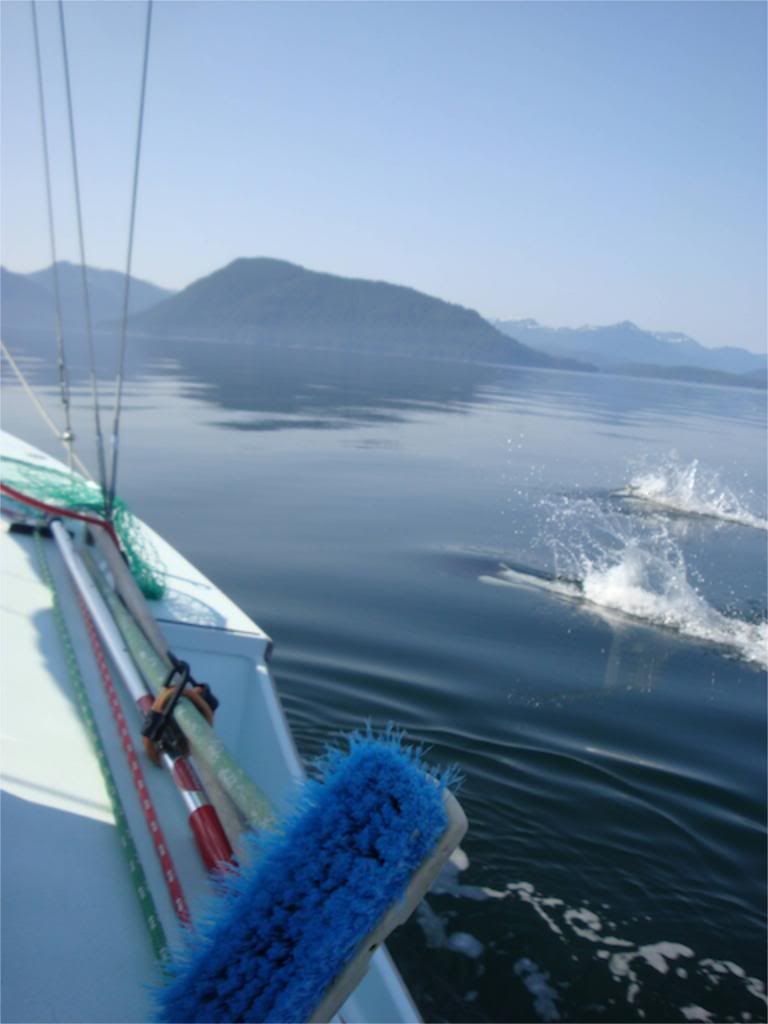 The dolphins are pretty amazing though they put an end to any fishing, at least in my experience. I think I may have snagged one once, so I just quit when they are around and enjoy them. Angoon is a native village and it is sort of off the beaten track. This is the view from Chatham Strait, it turned out only ships approach it from this side. There is a channel to the east that is much more protected.
The chart for the area is not very good and the folks who wrote the guide book we were using had obviously never been there. It turns out there is about a four to five knot current you have to contend getting in and out of the harbor, which is also very rocky. We were trying to find the public dock and spied a dock at what looked like an apartment building. We thought we would tie up there and ask where the pubic dock was. We pulled in and started to tie up when three very polite but emphatic locals came and told us that it was private. They pointed out that we were tied in their uncle's spot who apparently was the fellow who followed us in and then roared off as we docked. We weren't trying to offend anyone so when they pointed out where the public dock was we headed out.
They told us to ignore the red buoy as it was not where it was supposed to be. It was meant to mark a reef but we found out later that it always drifts away during the spring tides so it was about half a mile from the danger it was supposed to mark.
We found the marina which was largely empty. We tied up and asked a couple of fellows cleaning fish if the spot we chose was okay. They thought it was so we took advantage of solid land and took a walk about a half mile to town. Angoon has not been visited by cruise ships and the tourism industry is limited to charter boat fishing.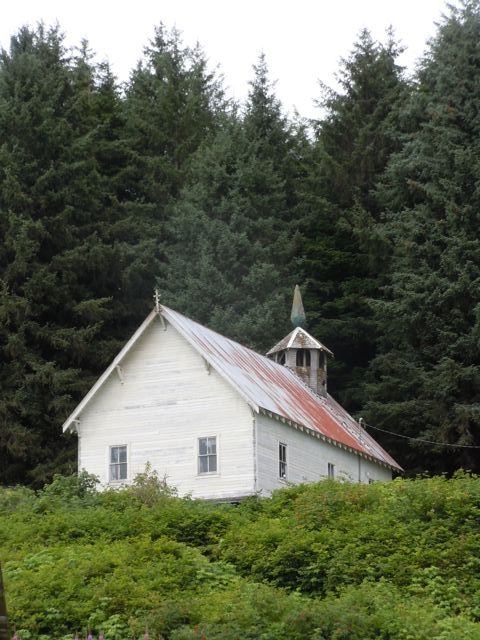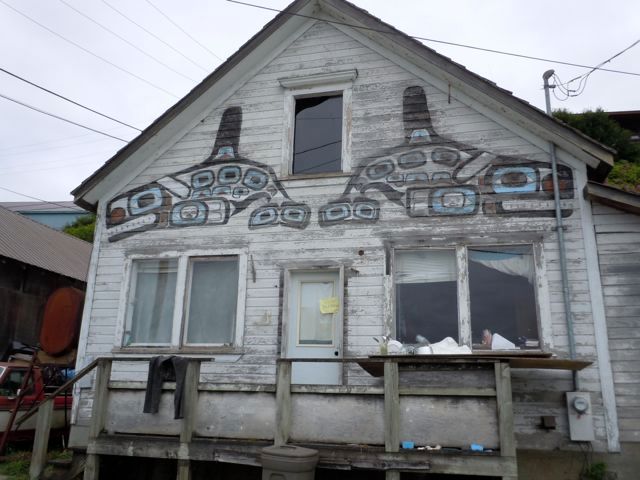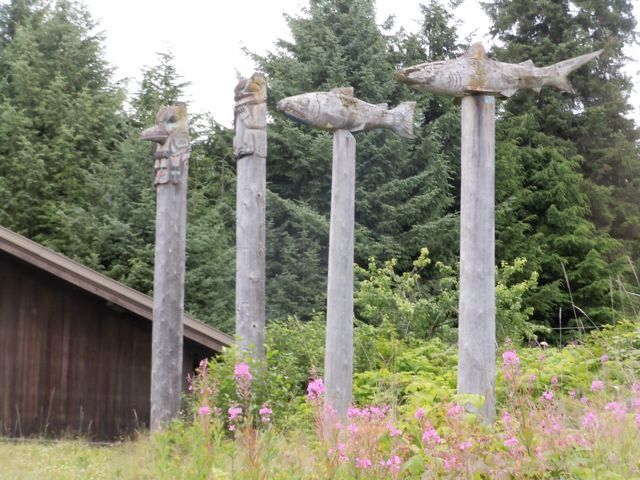 During our walking tour of the town a pickup truck pulled up next to us and the driver, who turned out to be the harbormaster, asked if we were from the sailboat tied in the marina. We replied that we were and he told us we were tied in someone's slip and that we needed to move. So we hoofed it back to the marina. The harbormaster was waiting for us, I am sure he would have given us a ride had we asked but I think he was too shy to offer. He did offer to help us move and foolishly I said we would be fine. Well I forgot about the current. We were supposed to tie up in the empty slip in the right side of this picture. After nearly pulling the harbormaster and his two grandsons into the water trying to tie up where we were supposed to, we ended up where we are in the picture. The harbormaster said that it would be fine.
Lots of "shipwrecks" as my wife likes to call them, you can see all the rocks now.
Since our primary reason to stop at Hoonah was to get gas we asked about the fuel dock's hours. We had arrived at 5:30 on Friday evening and fuel dock is officially open from 9-5 Monday through Friday. The harbormaster told us that if there was enough interest the owner would open up for an hour at 1:00 pm Saturday (others around town told us it was 1:30 or maybe 1:45) The harbormaster told us where the fuel dock owner lived and the places he liked to go so we could touch base if we saw him. We didn't.
The next morning we walked to the store and bought ice and a few things, there being no road, stuff was pricy. We watched one young man ring up a $200.00 tab for a small shopping cart of stuff to take out to his fish camp. Standing in line we got some good stories from the fellow who runs the dump; like high tailing it out of there to get away from bears or the time, when burning the garbage (to keep the bears away) someone had thrown away a bunch of bullets. "They were flying everywhere..." By the time we got back to the boat the harbormaster was there and told us that he had run into the owner of the fuel dock out at the airport and that he would be there at 1:00pm.
And he was, as were a couple of other boats, so we gassed up and headed out the channel. It was a slow go with a four knot current coming against us for about a mile. TIme and tide, time and tide.